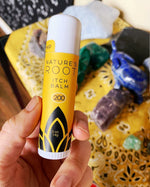 Well folks, mosquito season is officially upon us. That means whether you're camping, hiking, laying by the pool, or hanging at the park, it's a good idea to have
Nature's Root Itch Balm in your bag for all natural relief from bug bites. This maximum strength, organic formula not only relieves bug bites, but also soothes dry and irritated skin, leaving it smooth and hydrated. It is safe to use all over the body, and for kids as well. If you feel a rash creeping up, apply our Itch Balm in order to prevent the rash from spreading!
This is also a favorite for people who have sensitive skin while harvesting hemp or cannabis plants. Perhaps you know a trimmer or two who might be interested in using something other than Benadryl to take the Itch away. Our clean and simple formula is made with Organic Cocoa Butter, Organic Shea Butter, and 200mg of Cannabidiol-Rich Hemp Oil.